Climbing frame for children SAPrimo Hexagon offers plenty of opportunities for active fun! Our assembly is suitable for every playground and kids can have not only a great fun but also work out on the trapeze and wall bars or climb freely on rope or climbing wall.
Construction kit of Hexagon SAPrimo UNO is made of very durable material – stainless steel. The appearance of the element is completed by HDPE plates in different colors according to the type of design kit SAPrimo.
Hexagon SAPrimo UNO consists of the following parts:
1× CLIMBING PANEL WITH HOLES
1× ROPE PANEL – THE SPIDER'S WEB – HERCULES ROPE
2X HORIZONTAL BARS
1X ROPE WITH HANDLES FOR CLIMBING
1× ROPE LADDER
1× CLIMBING WALL WITH STONES
1× HAYRACK
Technical specifications:

Weight of play set is 385 kg
Production line SAPrimo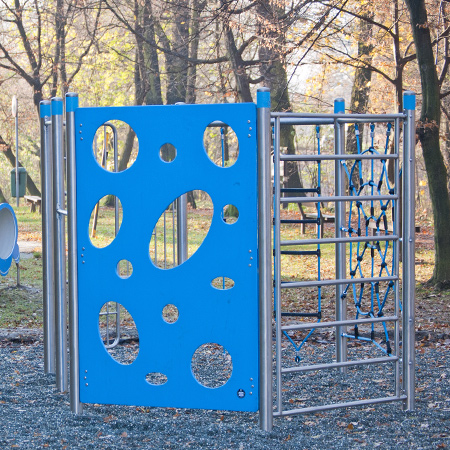 3D models are available for our business partners. Would you like to became our business partner? Do not hesitate to contact us.
HEXAGON 16011 Collada DAE 3D model (.zip)
HEXAGON 16011 FBX 3D model (.zip)