Playset QUATTRO, as the name suggests, is composed of four towers that are mutually interconnected and guarantee great fun! Crawling, climbing, sliding all this and much more offers our playhouse QUATTRO. Our playsets provides a lot of fun and healthy movement for your children.
The construction of the playset SAPrimo QUATTRO is made of durable stainless steel. The appearance of the element is completed HDPE sheets in the design colors.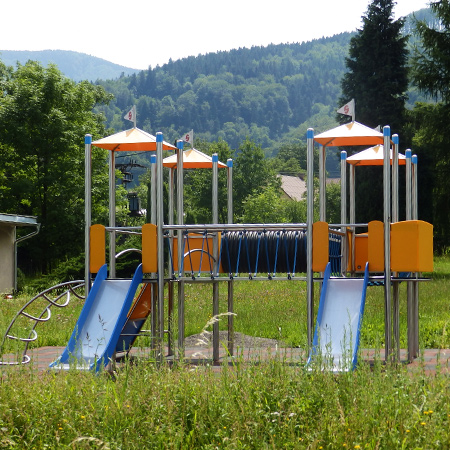 COMPONENT
PART OF THE COMPONENT
MATERIAL
4 x Pedestal with a roof (1,3m)
Supporting column
Stainless steel
Barrier
Stainless steel
Pedestal
HDPE plastic
Roof
HDPE plastic
Board
HDPE plastic
Flag
Plastic
1 x Manhole pipe
Pipe
Plastic
1 x lanový mostek tvaru "u"
Barrier
Stainless steel
Ropes
Polyester yarn
1 x Rope bridge V
Ropes
Polyester yarn
Construction
Stainless steel
Balance beam
Stainless steel
1 x Balcony
Barrier
Stainless steel
Pedestal
HDPE plastic
Board
HDPE plastic
1 x Patch bridge with fixed landing
Barrier
Stainless steel
Pedestal
HDPE plastic
1 x Stainless steel slide type 1 (1,3m)
Sheet
Stainless steel
Sidewall
HDPE plastic
2 x Small climbing wall
Board
HDPE plastic
Climbing holds
Polyurethane
1 x Arched ladder type 1
Barrier
Stainless steel
Connecting materials
-
Stainless steel
This product can be seen here:
CZ / Guty , More
3D models are available for our business partners. Would you like to became our business partner? Do not hesitate to contact us.
Playset QUATTRO 11030 Collada DAE 3D model (.zip)
Playset QUATTRO 11030 FBX 3D model (.zip)