Play set TRE offers children plenty of options for entertainment . The dominant feature of gaming element are 3 playtowers. Children can get into playtower by climbing wall or net and from the houses there are 2 slides. Playset offers, amongst others counter, clock, fire pole or atypical LADDERS .
The construction playset TRE is made of durable stainless steel. The appearance of an element is supplement by HDPE plates in design colors.
Playset TRE consists of the following parts:
3× playtower with a roof
connecting bridge with nets
2× slide with HDPE side pannels
monkey bars
climbing wall with holes and climbing stones
climbing rope nets
counter
clocks
interactive panel
fire pole
ledders
Technical specification:
weight of play set is 730kg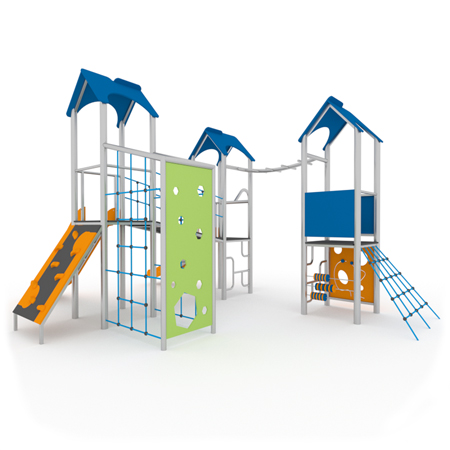 3D models are available for our business partners. Would you like to became our business partner? Do not hesitate to contact us.
Playset TRE 11078 Collada DAE 3D model (.zip)
Playset TRE 11078 FBX 3D model (.zip)