Did you also love playing shop as a kid? Today's children can play this very popular game in our SAPEKOR Playhouse shop and spend great hours as shop assistants or shoppers with their friends.
Because we always focus on the happiness of youngest kids our Playhouse Shop is designed for children from 2 year of age. SAPEKOR playhouse Shop is made from high quality HDPE plastic sheets and stainless steel, which assures its long life span. Thank to high quality materials SAPEKOR Playhouse shop will serve to all little shop assistants for generations.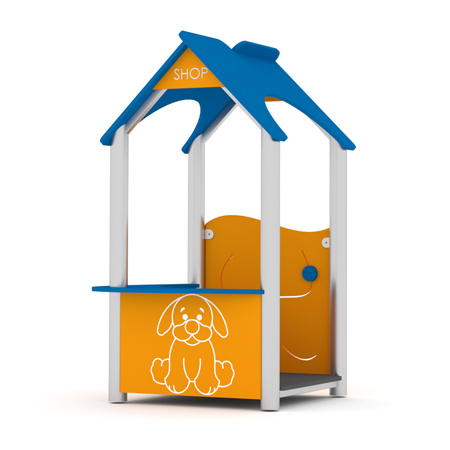 COMPONENT
PART OF THE COMPONENT
MATERIAL
1 x Pedestal with a roof
Supporting column
Stainless steel
Roof
HDPE plastic
Pedestal
HDPE plastic
1 x Shop counter
-
HDPE plastic
1 x Interactive board
-
HDPE plastic
2 x Barrier with picture
-
HDPE plastic
Connecting materials
-
Stainless steel
3D models are available for our business partners. Would you like to became our business partner? Do not hesitate to contact us.
Playhouse SHOP 12006 Collada DAE 3D model (.zip)
Playhouse SHOP 12006 FBX 3D model (.zip)